Sale and Clearance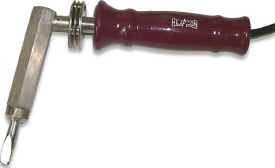 Hexacon 100 watt hatchet style Heavy Duty professional soldering iron.

Hexacon irons are the gold standard for production work / assembly line work. Properly cared for they will last the average worker a lifetime.
The hatchet style iron is a must for folks who have a hard time holding an iron at the proper attack angle for long periods because it allows you to hold your arm much lower relative to your body and still maintain the correct angle to your work piece.
Hexacon no longer makes this model but has replaced it with a cheapened version.

The regular price on this iron back in 1999 when we got them in stock was $186.54. In today's dollars that's the equivalent of about $250.00!
I just found this one hanging around and need to move it so I'm willing to let it go for just $125.00 including free shipping anywhere in the United States. That's below half price once you factor in the shipping.
Only one available so act fast!

Closeouts are available by telephone order only. To order call Dodge Studio at 845-221-2096 during business hours.

Tue, Wed, Thurs. 10:00-5:00
Friday 11:00-5:00
Saturday 11:00-4:00

Available while supplies last.



View Shopping Cart
(proceed to checkout)
---
Copyright: All Descriptions, graphics and photographs © Dodge Studio 1996-2008
Return to home page
Featured Supplies
Supply Index
Patterns
GlassTalk Bulletin Board
Safety Tips
The Help Desk
Glassworkers Tips

{The Studio}
{Directions to Dodge Studio}
{About Custom Work} {Custom Work Gallery} {For Sale!}